Next litter for January 2023
We have one puppy available immediately
Mr Grey
Nous avons un chiot disponible de suite
M. Grey
They have arrived!!!
Ils sont arrivés!!!!
Elsa and Ollie's puppies arrived on 15th January 2023, 11 beautiful puppies, 3 girls and 8 boys.
If you are interested in one of our Golden Retriever puppies please contact me.
Les chiots de Elsa et Ollie sont arrivés le 15 janvier 2023, 11 beaux chiots, 3 filles et 8 garçons.
Si vous êtes intéressé par un de nos chiots Golden Retriever, veuillez me contacter.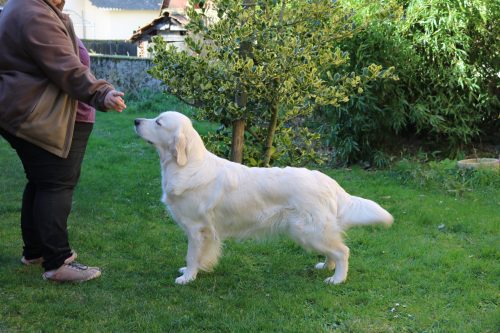 Litter for 2023
Zampanzar Iggy Pop "Ollie"   x  Bojangels Meant to Be "Elsa"
This is a repeat mating, Elsa's first litter was with Ollie and those puppies have matured into very nice adults, with super temperaments, so we are very excited to see more like them!!
Please contact me if you would like to be added to our waiting list.